Introducing Our First Social Value Champion: Mark Douglas, Founder of Bee1 and CEO of Our Classroom Climate.
We are thrilled to announce Mark as our first ever Social Value Champion. With a remarkable track record in promoting social change and fostering inclusive environments, Mark has established himself as a visionary leader in the fields of education and sustainability.
As the founder of Bee1, a groundbreaking organization dedicated to environmental preservation, and as the CEO of Our Classroom Climate, an innovative platform promoting diversity and equity in education, Mark has consistently demonstrated his commitment to making a positive impact on society.
Our Classroom Climate has teamed up with Connex Education Partnership and Cardiff University to deliver the biggest ever climate change education programme undertaken in the UK. Working together with schools across the UK we will measure and improve air quality in every classroom. Together we will use space station science to capture carbon directly from the classroom.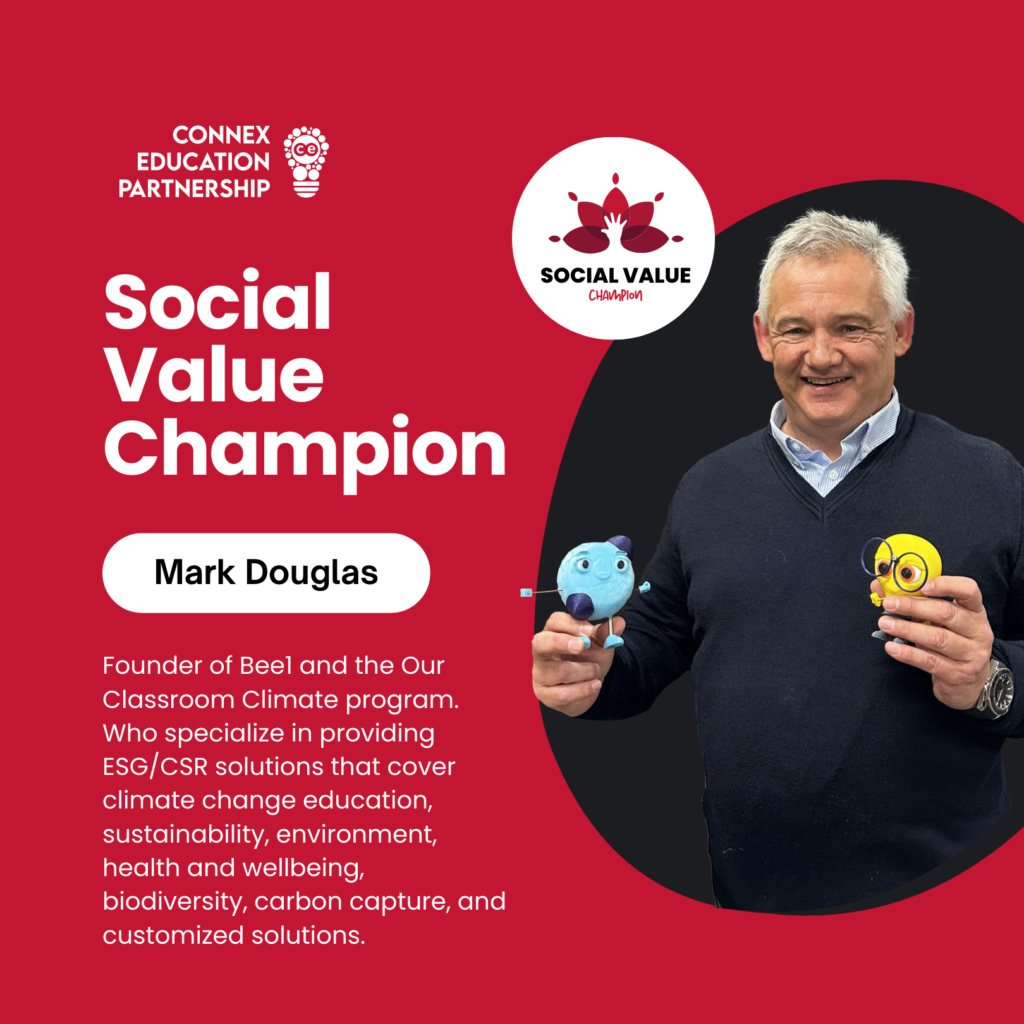 Mark Douglas, Founder of Bee1 & CEO of Our Classroom Climate said:
"We are delighted to be named as the first ever social value champions for Connex education. Apart from being very humbled we are super excited to be recognised by a leading UK and international education company for the quality and impact of our work in schools
It's also a huge testament to the many climate scientists, educators, Drs, Professors and other academics that have helped us make Our Classroom Climate such an exciting education platform. 
Our programme is all about teaching the next generation about climate change, but also includes some really cool science experiments which the children absolutely love doing. Who would have thought that we can teach children how to clean the air in their classroom AND physically capture Carbon from the air! 
Our mission remains to put one of our DIY algal bioreactors (or a 10-year-old oak tree) in every classroom! We look forward to supporting other companies on their sustainability/ social value journeys, well done Connex for leading the way!
Thanks for this support."
Paul Broderick, CEO of Connex Education Partnership said:
"Connex Education are absolutely thrilled to announce our partnership with Our Classroom Climmate to deliver the biggest ever climate change education programme undertaken in the UK. This incredible initiative that aligns perfectly with our Social Values Programme. 
As a company, we are committed to using our business to create positive social change in the communities we serve, and we know that this partnership will enable us to make a meaningful difference in the lives of young people who need it the most.
We hope to capture the imagination of the next generation of scientists by providing a package of digital lessons, teacher resources and experiments for primary schools. Plus holistic and scientific curricula that meet the agenda of sustainability, clean air, levelling up, health, wellbeing, and environment.
Our motto is "Do the right thing, simply because it is the right thing to do!"