Introducing our Social Value Champion for July: Dr Elke Paul Co-Founder of Create Positive, a professional learning ecosystem to advance mental wellbeing and human skills, as well as one of Connex Academy's dedicated Senior Mental Health Lead educators.
We are thrilled to announce Dr Paul as July's Social Value Champion as she has demonstrated an unwavering commitment to health and well-being in education, and we are honoured to recognise and celebrate her outstanding efforts not only in her career but also as one of our educators on Connex Academy's Senior Mental Health Lead program.
She is passionate about Wellbeing Transformation Programs and has experienced them turn schools into empowered flourishing organisations. She believes wellbeing education needs to sit at the core of any school education alongside academic knowledge development. Dedicated leadership and staff up skilling and community participation are crucial levers for success.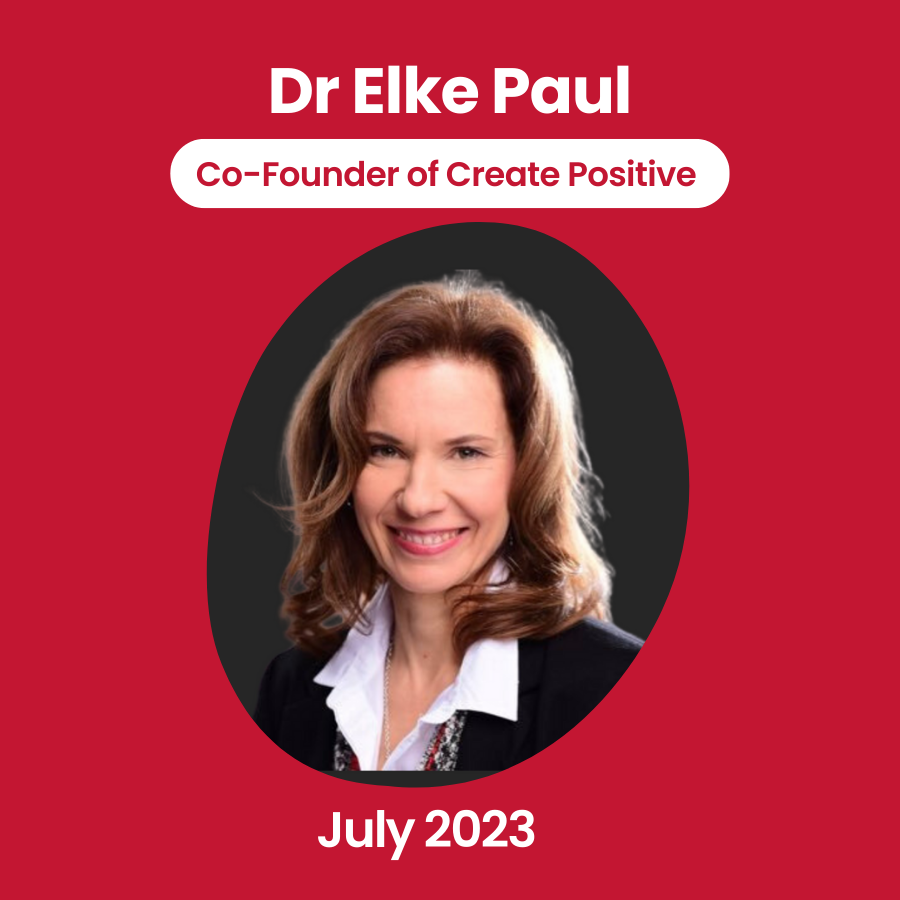 As a board member of the Spirituality and Meaning Division at the International Positive Psychology Association she is convinced, the art of slowing down, mindfulness, and developing a healthy relationship with oneself are additional drivers for a positive change in schools. 
Given current global challenges, and with teachers and students specifically, well-being education needs to get to schools directly and more professionally. Through CreatePositive, founded in 2020, Elke has been able to support and empower other educators with strategies, tools and knowledge to enable them to bring about whole-school well-being change within their school communities.
Dr Elke Paul, Co-Founder of Create Positive said:
"Thank you so much for this recognition. I feel very honoured. This was very unexpected. 
I love working with Connex Education – The professionalism, the friendly, supportive work environment, and the kindness of everyone I work with are just amazing!
Beyond that, your vision to drive social change and strengthen the well-being of education communities aligns closely with mine. All those factors make it very easy and enjoyable for me to generate ideas, contribute, and deliver your fantastic Senior Mental Health Lead programme."
Paul Broderick, CEO of Connex Education Partnership said:
"Connex Education are absolutely thrilled to announce Dr Elke Paul as our social value champion for July. Our mission is to enable schools to thrive, develop, and improve their whole school approach to mental health, which supports the whole school community
As a company, we are committed to using our business to create positive social change in the communities we serve, and we know that this partnership will enable us to make a meaningful difference in the lives of young people who need it the most.
Our motto is "Do the right thing, simply because it is the right thing to do."